Main page
About the Tatters
Bookmarks:
Diamond
Heart
Long
Misc.
Doilies
Lace
Thread Sizes & Colors
Place Order
Links
Thread Sizes & Colors
The majority of our items are made with size 10 (thicker) or size 30 (finer) thread. One or two different thread colors can be chosen for each item you order. Or, if you wish, just put the words "same as shown" for color when you go to fill out the order form, and we'll make the item exactly as shown on the web page.

Shown here are listings of the most popular thread colors we offer. Because of the difficulty in accurately portraying colors between web browsers and computers what you see here is only approximate and the actual thread colors used may be slightly different.

If you're interested in another color not listed here, contact us. We have quite a variety of other colors (some in limited amounts) and there's a chance we may have what you're wanting, or else be able to special order it.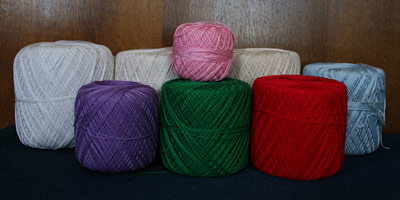 Solid colors, size 10 and 30:
Bright white
Off white/cream
Ecru/tan
Lavendar
Grass green
Red
Medium pink
Light blue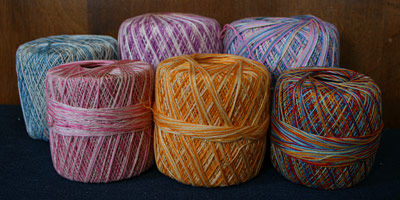 Varigated colors, size 10 and 30:
Light blue & white
Pink & white
Lavender and cream
Orange/gold & off-white
Pastel rainbow -- pink, blue, yellow, lavender, green
Bright rainbow -- yellow/gold, green, blue, red, etc.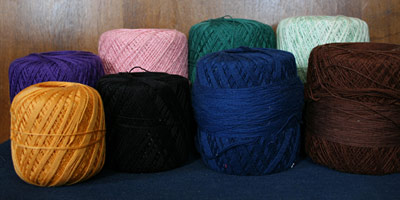 Thread colors, size 10 only:
Dark purple
Sunflower yellow
Pale pink
Dark green
Dark blue
Light green and white varigated
Brown
Thread colors, size 30 only:
Light aqua
Dark red/burgandy
Yellow and white varigated
Medium blue