Main page
About the Tatters
Bookmarks:
Diamond
Heart
Long
Misc.
Doilies
Lace
Thread Sizes & Colors
Place Order
Links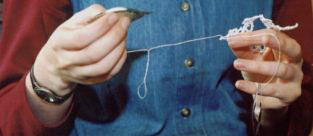 Hello, and welcome to our Tatted Blessings website! Growing up on our family farm in central Iowa, both of us learned how to tat in our early teens. Having sold hundreds of bookmarks and doilies at local farmer's markets and craft shows over the years, we are now expanding our business online. Each of our items is carefully handmade using quality thread, and makes a treasured family heirloom. You won't find more affordable prices for custom work anywhere else online.

Take a look around our website, and drop us a note if you have any questions or would like to place a custom order. We look forward to hearing from you!

Thanks for stopping by!
Abigail & Susanna Paul
Show Schedule:
Throughout the year we attend various shows around Iowa, and have a booth showcasing many of our most popular items. You're welcome to come by and watch us demonstrate tatting -- just contact us to see which shows we'll be at. We look forward to meeting you!

Interested in learning how to tat?
Drop us a note to set up a lesson time, either at one of the shows we will be at, or at our home. We ask $12 for an hour of one-on-one tutoring, with a suggested minimum of 2 hours for the initial lesson. We teach shuttle tatting, so you'll need to either bring a shuttle or two along with a ball of size 10 crochet thread. Shuttles and thread can often be found at larger craft stores, but if you can't locate any let us know and we can order some for you at minimal cost.

This website and all images are copyright 2009,

Abigail and Susanna Paul


Some of the designs we offer are our own original, copyrighted creations; others are taken from old books or clippings and didn't include a designer's name. We want to give credit to original designers whenever possible, so please

contact us

if you have information we need to know.
Visit our family's business website here --

Paul's Grains


Last updated: February 4, 2009